Through food we acknowledge and appreciate the way of the gods.
Prairie Stuart-Wolff
It is impossible to overestimate the significance of the season to Japanese people, their sensitivity to the importance of small differences. The emphasis on seasonality is reflected in every aspect of their culture, but nowhere more than in the food. Ingredients, cooking methods, and serving pieces are all chosen to reflect the time of year. Home cooks and professional chefs alike take advantage of each season to pay tribute.
Each of the four seasons is a chapter further divided into their early, middle, and late periods. Food that is perfectly in season—at the peak of flavor and texture—is called shun. Early produce, for the eager and impatient, is called hashiri. Produce for those who still crave flavors beyond their point of harvest perfection is called nagori.
In 2007, Prairie Stuart-Wolff moved to Japan and married into a family of accomplished potters, dedicated cooks, and food connoisseurs. A marvelous writer and photographer, she founded her website Cultivated Days to document the principles and practices of Japanese food culture. A recent post perfectly sums up the current season, that knife's edge between the very tale end of winter, that lingers long in the Midwest, and the early signs of spring.
Her inspiration was eating at a favorite restaurant in Tokyo where she was presented with a small dish composed of nama-nori (seaweed) and nanohana (wild broccoli rabe). Nama-nori is a seaweed at its best in winter, when the sea is cold and the sun is bright. Nanohana is a green that grows wild in and around dormant rice fields. In spring, its bright yellow flowers are one of the first harbingers of the awakening spring landscape.
When brought together, this inspired dish eloquently expresses the current in-between season when we feel in equal measure winter passing but not-yet-gone and spring on its way but not-yet-arrived.
I wanted to create a dish using local ingredients that expressed this same special time of year. Wintered spinach is planted in the fall and this hearty vegetable grows through the winter, sheltered in hoop houses or even just insulated with piles of straw.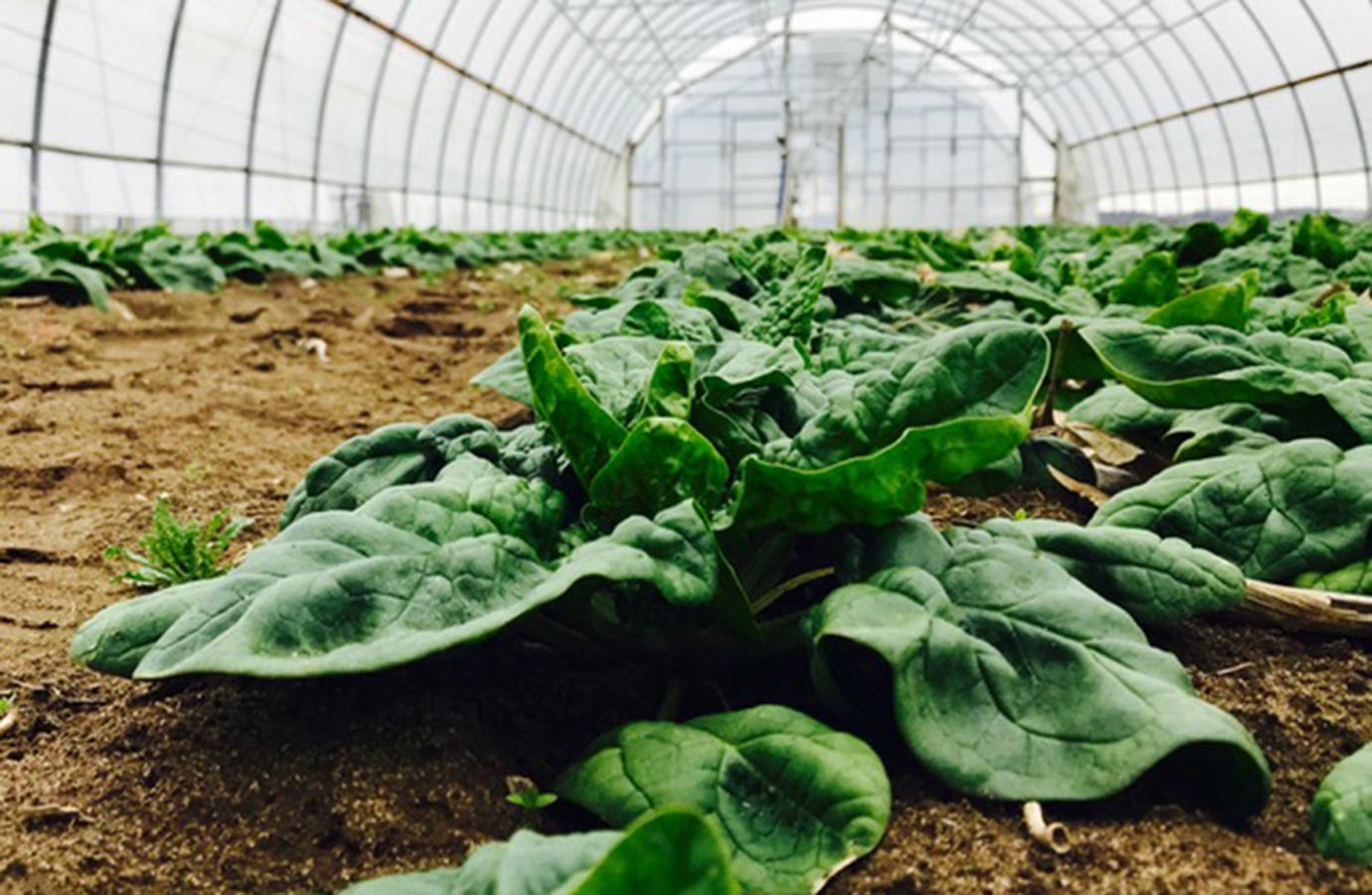 In the Midwest where I live, wintered spinach is the first green to appear in farmer's markets at the end of our winter season, much before the arrival of other markers of spring like ramps and asparagus. The wintered spinach leaves have a meaty texture and an incredible sweetness.
Pullet eggs are laid by chickens that are under a year old. Although they are small, the proportion of yolk to white is large, so they are rich and full of flavor—a true springtime treasure. Simplicity of preparation and purity of flavor are the keys to this dish.
Recipes