In 1992, Hans Gottling sold Clark-Foster Liquors to Michael Roper and Louise Molnar. We were their neighbors at the time and Mike told us about the bar he just bought. At 7AM when it opened, there were already customers lined up outside, old men waiting to get in. The conversation was about who had died from what. The bar had no windows and it was perpetually submerged in a fog of cigarette smoke. There was a pay phone in the back for placing bets and a porno flick was shown every day at noon.
Mike and Louise had a different vision of where the neighborhood was headed and what their place could become. No bank was interested, so they financed the project with personal credit cards and a lot of sweat equity. From the start, Hopleaf was the place for Belgian beer in Chicago—a spot where you could enjoy a staggering selection of brews, but also count on having some interesting conversations. It's now a destination for people in the neighborhood, the city, and way beyond.
In 2003, not wanting loyal customers to leave and go elsewhere to eat, they added food and the bar became one of the city's first gastropubs. The menu originally started with mussels and pommes frites that today remain the anchor, but the food has taken off from there. Just as Mike is obsessed with the quality of beer on tap, he is equally interested in the pedigree of ingredients on the menu.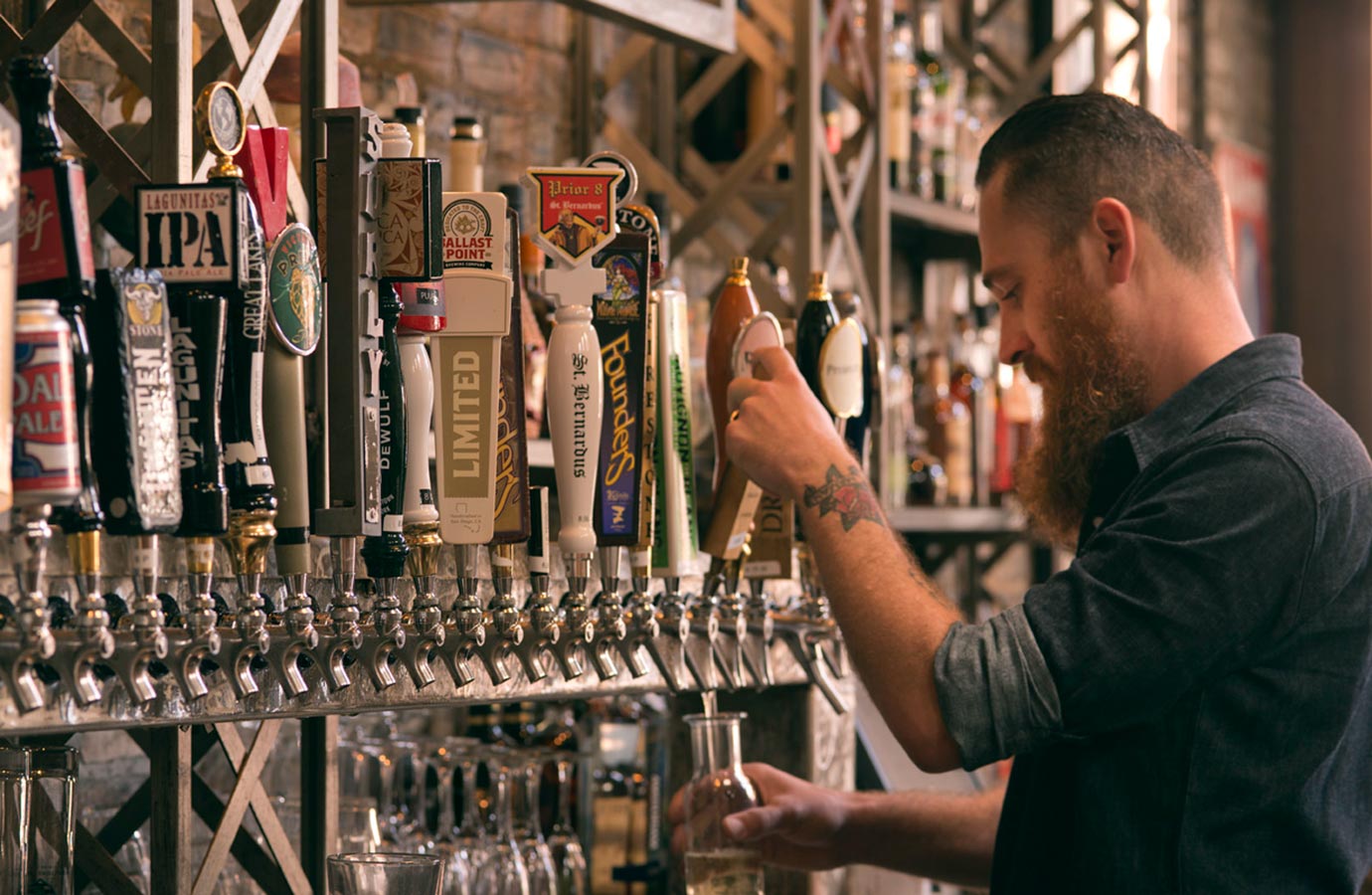 While staying true to the original vibe of the bar, Mike and Louise continue to reinvent the Hopleaf. They have created a unique environment that attracts not only interesting customers, regulars and tourists alike, but also talented and unique people in their kitchen. One of them is Louisa Farhat. At the Hopleaf, she is in charge of pastries and the dessert menu, but she is also the butcher. She breaks down the pigs and goats as they arrive from Slagel Family Farms and prepares the sausages and other charcuterie. In my experience in the food business, butchers and the bakers have different DNA. I was curious to meet her.
Up until six years ago, Louisa never thought that her work would land her in kitchens. She was a student at DePaul, getting her degree in philosophy and art history, imagining a career teaching at a university or working in an art museum. To put herself through school, she started bartending, moving on from there to restaurants, and finally getting into the kitchen. Karen Gerod, pastry chef and owner of the Swim Café, was her first mentor. When Karen died of cancer, Louisa moved on to Katherine Anne Confections and learned to work with chocolate. From there she ran the baking program at Cleetus Friedman's now defunct City Provisions. In that kitchen she met Andrea Deibler, in charge of whole animal butchering as well as sausage and charcuterie making. When Andrea's assistant abruptly left, Louisa stepped in. At first, she made the brines and sausage seasonings, weighed to the gram. In many ways, this was similar to the kind of tasks she did in the pastry kitchen. Next, she went on to learn what you could do with each cut, nothing wasted. She remembers the first time when she stood alone in front of a pig, armed with saw and boning knife, and had to urge herself to just touch it.
In terms of experience, if not years, that was a long time ago. After a stint at the insanely high-volume restaurant, Girl and the Goat, at 28 years old, Louisa became the Hopleaf's butcher-baker. She was in charge of baking and desserts while also butchering and making the charcuterie. She created the Hopleaf country pâté, pork belly rillettes, oil-cured ham, headcheese, 'nduja, tasso, summer sausage, and chicken liver mousse. Her desserts often featured savory notes in order to work well after an evening of drinking ale. One day a week she also worked at Al's Meat Market in Wilmette. Al's is the kind of shop where the guys start the day with a shot of whiskey. She was the only woman at Al's and she likened it to being the only girl on a pirate ship. She was also the youngest employee—the next youngest is 67 years old.
Louisa finds connections between her roles as baker and as a charcuterie maker. For her, the two skill sets are complimentary rather than incompatible. She has the highest level of respect for the animals that she butchers as well as for the fine ingredients that she uses in the pastry kitchen. Both roles require detailed knowledge and a need to be meticulous. Tasks are very repetitive. There's no "winging it" or fixing a mistake on the fly like you can do on the line. She's willing to work hard, to put in long hours. She is consumed with the desire to learn more and to be a better craftsman.
At the end of last month, Louisa Farhat moved back home to Minneapolis. The Hopleaf has hired two people to replace her. She felt that with the support of her family and in a smaller city, there is more opportunity. Her exit is a big loss for Chicago. Personally, I look forward to the day I can dine at Louisa's own establishment.