Photo above by Eric Futran
My father's seven brothers and sisters raised their families within walking distance of each other in Detroit, Michigan. We often shared meals and celebrated many holidays together. Each household had a specialty: my mother's was chicken soup with matzo balls (I have inherited this crown), my Aunt Sylvia's was her sour cream chocolate cake. This same dessert is still served for all family birthdays.
In my experience, most people who say they hate frosting actually love it, believing it's somehow childish to admit so. This recipe works equally well for frosting-lovers and frosting-haters. The icing is moist and rich enough to work as a thin layer. However, if you use the whole recipe you'll have a dense enough layer of frosting to satisfy any enthusiast. If there is any frosting leftover, it holds for a week in the refrigerator and makes an excellent filling sandwiched between two thin cookies.
For two 9-inch layers
Ingredients
Cake
3 oz. unsweetened chocolate
½ cup water
2 cups sifted cake flour (8 oz.)
½ tsp baking powder
1 tsp baking soda
1 tsp salt
2/3 cup softened butter (150 grams)
1 cup white sugar (200 grams)
2/3 cup light brown sugar (130 grams)
3 eggs
2 tsp vanilla
1 cup sour cream
Frosting
3 squares unsweetened chocolate (85 grams)
2 tbl butter
1 cup sour cream
up to 1 lb confectioners' sugar
¼ tsp salt
1 tsp vanilla
Instructions
For Cake
Grease pans and line with parchment paper. Preheat oven to 350°.
In the top portion of a double boiler, heat ½ cup water. Add chocolate, stirring until melted and smooth. Let cool.
In a small bowl, combine cake flour, baking powder, baking soda, and salt.
Cream butter and sugars until light and fluffy. Add eggs one at a time, mixing well after each addition. Add vanilla.
Mix sour cream into the cooled chocolate. Alternating between chocolate mixture and dry ingredients, gently fold both into the creamed butter mixture.
Bake at 350° for 30 to 40 minutes. The layers should spring back when lightly pressed and a toothpick inserted in the center should come out clean. Let the cakes cool in the pans for 10 minutes, then on a cooling rack. Do not frost until the layers are completely cold.
For Frosting
Melt chocolate and butter. Set aside until cooled completely.
Beat together sour cream, salt, and vanilla.
Beat in melted chocolate mixture.
Add confectioners' sugar ½ cup at a time until the frosting has a spreadable consistency and the desired sweetnesss.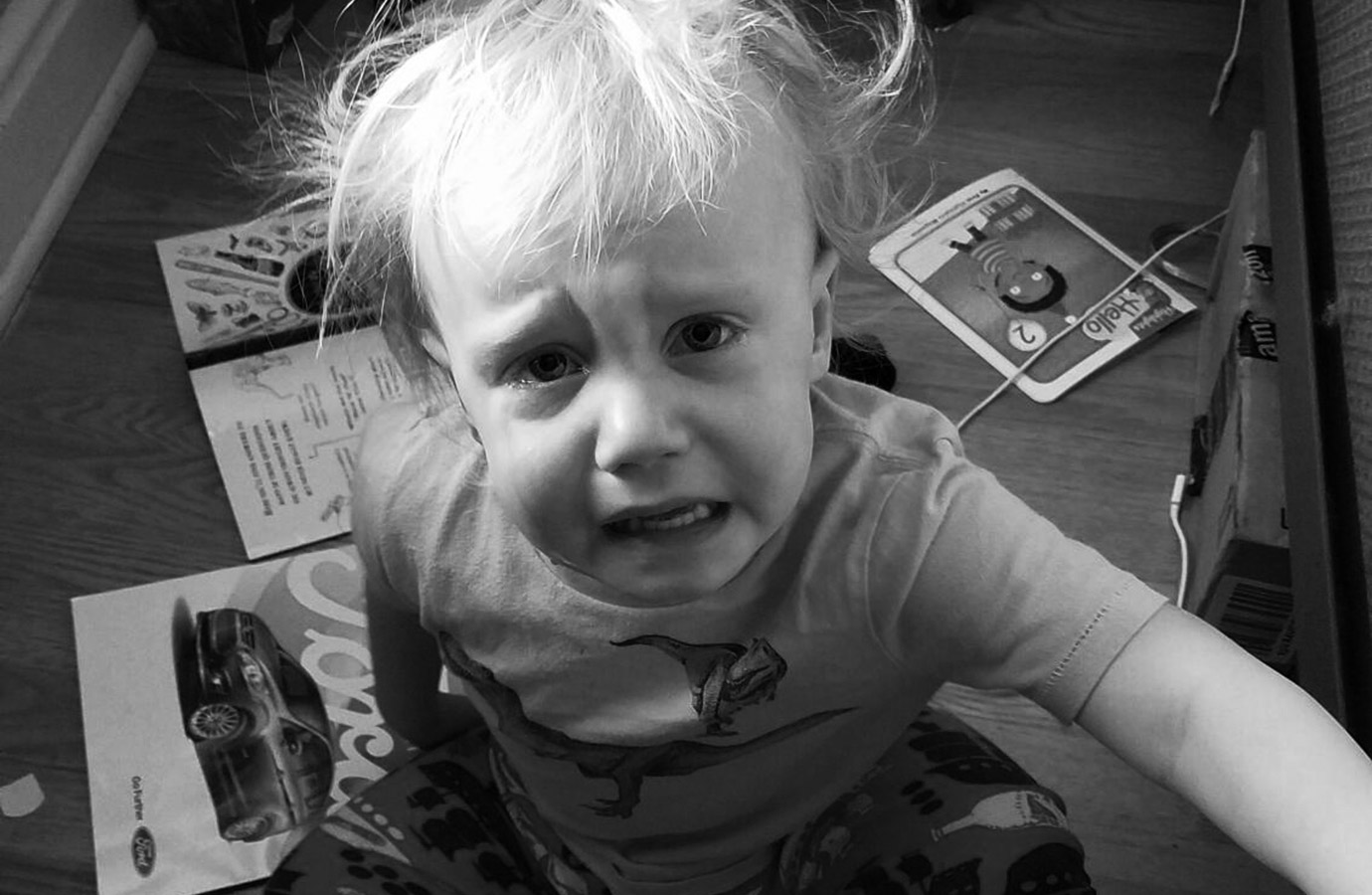 My great nephew learning there's no more cake.