In the 80s I owned and ran a catering company in New York City, the Good Table. My partner Maria Pola was from Puerto Rico, and we made a number of dishes from there for our American customers. The all-time favorite was beef empanadas, which were a specialty of Maria's great aunt. Of course none of the aunt's recipes were written down, but Maria could describe the taste exactly; we worked and worked on them to get it just right. They were also a favorite at my catering company in Chicago, J&L. Here's the recipe now made with the addition of chipotle peppers to the filling, as suggested by my Mexican partner and husband John Chavez.
I usually make the dough and filling the day before I fold the empanadas. For dinner, the beef picadillo makes a delicious stuffing for tacos with crispy lettuce wrappers, served with guacamole and tortilla chips. I chill the rest of the picadillo to make the empanadas the following day.
Alternatively, for a vegetarian filling, combine sautéed onions and garlic mixed with minced spinach and grated lemon rind and bound with a combination of tangy goat cheese and cream cheese.
Beef Picadillo
Ingredients
1 ½ lbs ground beef
1 cup minced onion
2 tbl crushed garlic
1-14.8 oz can crushed tomatoes (Muir Glen fire roasted tomatoes recommended)
3 tbl capers, minced
3 tbl green olives stuffed with pimento, minced
½ cup roasted red pepper, minced (jarred Spanish piquillo peppers recommended)
½ cup yellow raisins or currents, minced
½ cup canned chipotle peppers in adobo sauce, minced
1 cup cilantro, chopped fine
1 tbl salt
1 tsp black pepper, freshly ground
2 cups dry sherry (oloroso sherry recommended)
Instructions
Sauté the beef, breaking up any chunks, until it loses its raw meat color and renders some juice and fat. Remove the beef from the pan, add the onions and garlic and sauté in the fat that remains until the vegetables are translucent.
Add the beef back into the sauté pan along with the capers, olives, raisins, roasted red peppers, and chipotles. Pour in the sherry and reduce until the mixture is almost dry.
Add the crushed tomatoes, salt and pepper and cook the mixture down to a thick filling, stirring frequently. Taste and adjust the salt. The filling should taste slightly over salty and spicy since it will be baked inside pastry, which flattens the seasonings. Cool completely before using.
---
Empanada dough
Dough made with 5 cups of flour yields fifty four to sixty 3-inch circles. Use this size for passed appetizers. Larger empanadas can be used as lunch entrées.
Ingredients
625 grams or 5 cups all purpose flour
1 tbl sugar (optional)
½ tsp salt
1 ¼ tsp baking powder
¼ tsp cream of tartar
10 oz unsalted butter, cut into tablespoons and held in the freezer
1 3/4 to 2 cups heavy cream
Instructions
It's easiest to make this dough in a Cuisinart but you can also work with a large bowl and pastry blender.
Stir together the flour, sugar, baking powder, cream of tartar, and salt. Pulse in the butter or use a pastry blender until the mixture resembles small peas. With the motor running, pour in the heavy cream and then pulse until the dough just comes together. You can also do this by hand. Chill the dough before rolling. It is easier to work with the dough if it rests overnight to relax the gluten.
IMPORTANT NOTE: Everything you do in the kitchen is much easier and more consistent if you use weight as your unit of measure rather than volume. I cannot suggest this strongly enough! Traditional Oven is a great website for converting measurements of all types of flour, sugars, honey and yeast from volume to weight measurements.
My favorite digital kitchen scale for home use is the Good Grips Stainless Steel Food Scale with Pull-out Display, made by OXO. It has an 11-pound capacity, is accurate to either an eighth of an ounce or a single gram and has a thin profile for easy storage.
Instructions for Rolling Empanadas
Lightly flour your workbench or roll out the dough between sheets of parchment to between a quarter and an eight of an inch thickness. Cut out your circles and re-work the scraps only one time or the empanadas will be tough. Use a 3-inch cutter for appetizer size empanadas, a larger cutter for entrée size.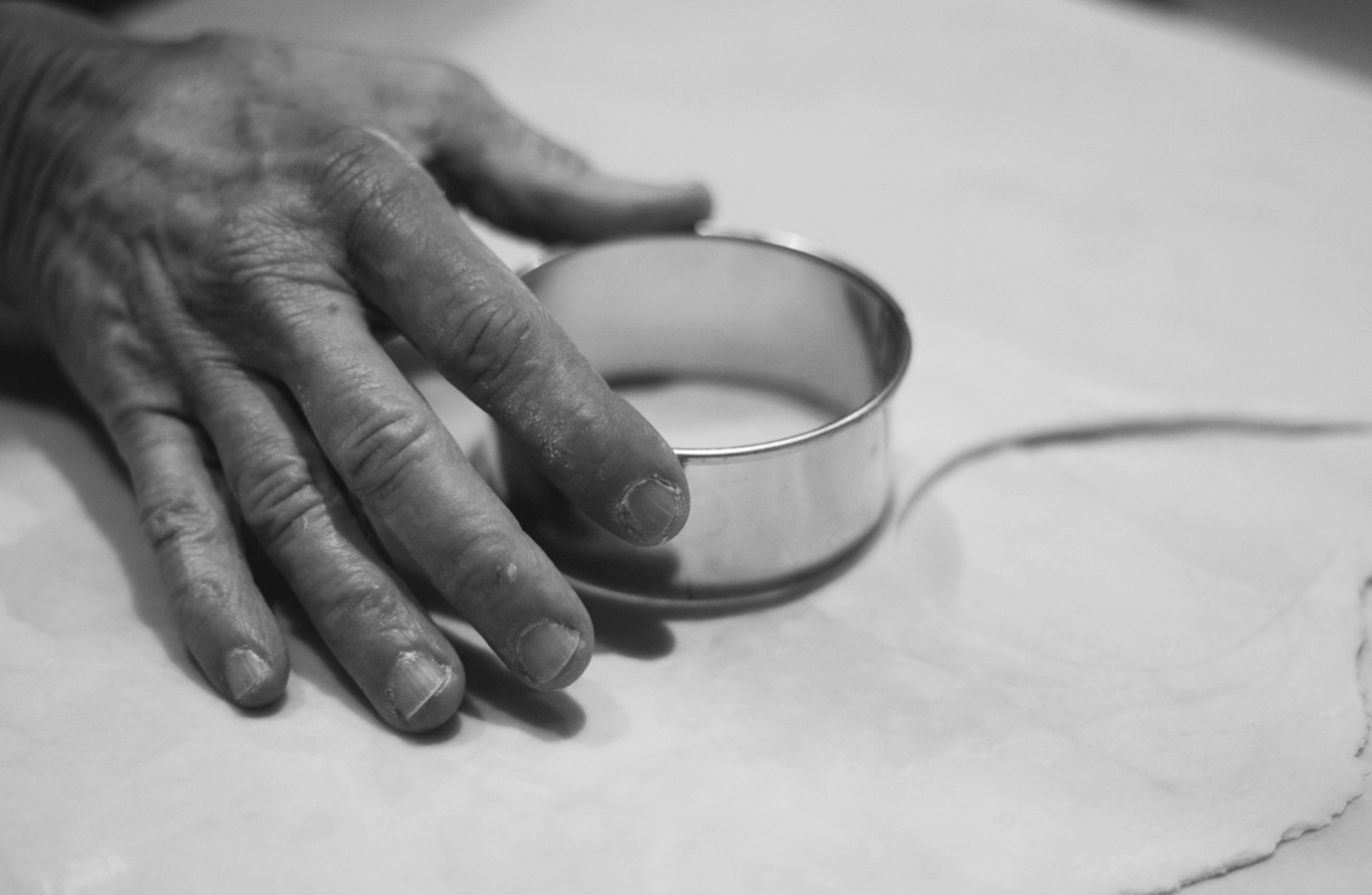 I like to work with a third of the dough at a time. After rolling and cutting your circles, lay them out on your workbench. I find it is easiest to work on top of parchment or wax paper. Put approximately a tablespoon of filling in the center of each circle. Fold over the dough stretching the top half a little to completely cover the filling. Crimp the edges with a fork. The empanadas will bake in a neater shape if they are chilled or frozen before going in the oven. Do not defrost before baking.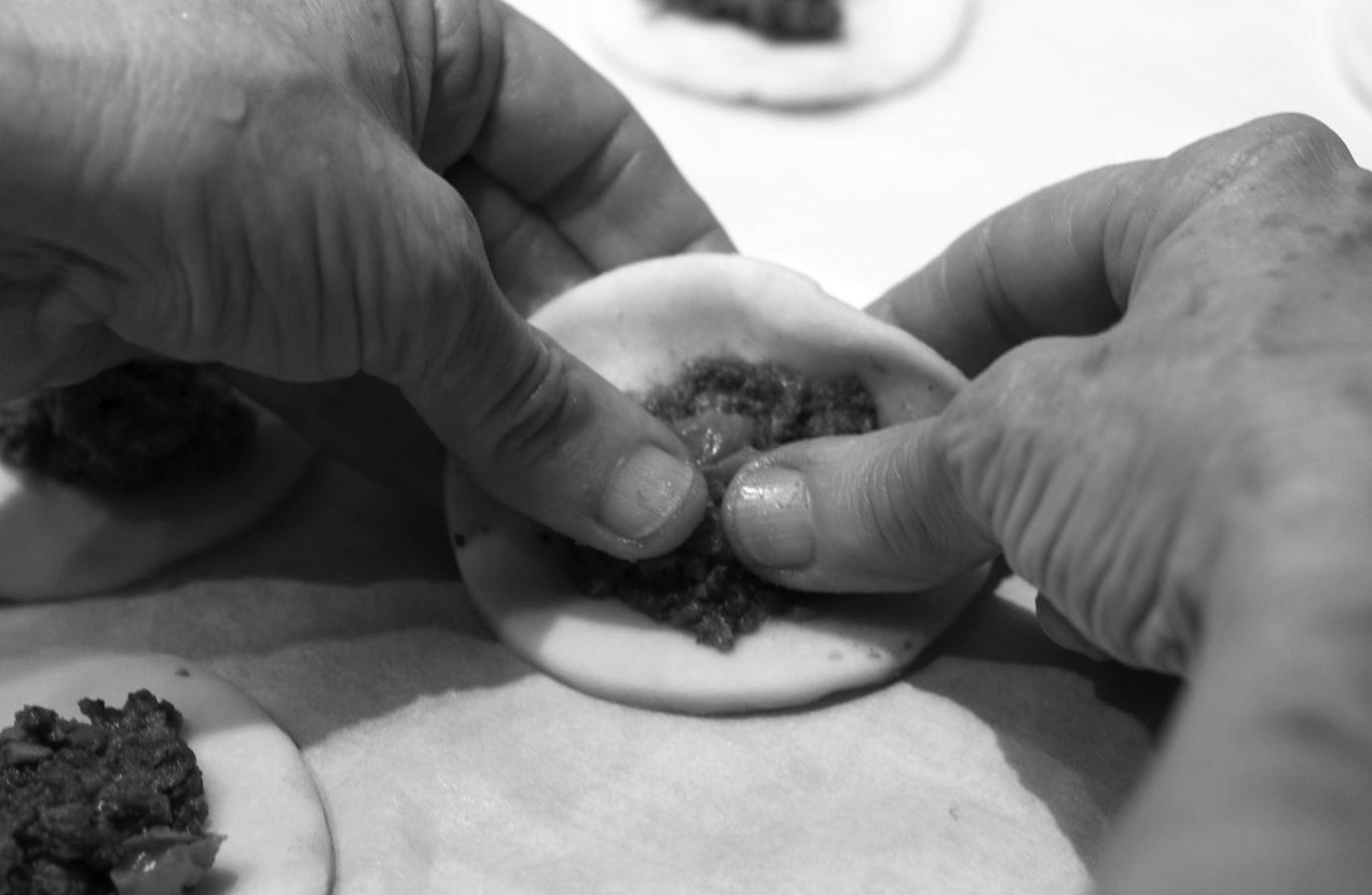 Bake the empanadas in a pre-heated 375° oven until golden brown. Cool them on wire racks before serving.