I've always loved the story about the origin of sandwiches. John Montague (1718-1792), the fourth Earl of Sandwich, is given the credit. While he was traveling in the Middle East, his hosts introduced him to mezes of grilled flatbreads served with tasty morsels of meat, poultry, and preserved fish. Being a notorious bon vivant and gambler, Montague instructed his own chef to adapt this idea for his gambling marathons. With the newly invented sandwich, he could spend hours on end at the gaming tables, one hand free for the cards and the other hand free for sustenance.
Three hundred years later, we live in a sandwich soaked culture. The portability of a sandwich makes it a top choice in our rushed lives. However, these days some chefs are channeling their fine dining backgrounds to take the Earl of Sandwich's idea to a different level. In 2003 in New York City, Tom Colicchio and one of his sous-chefs, Sisha Ortuzar, started a chain of sandwich restaurants called 'wichcraft. The concept came from an end of the shift ritual at Colicchio's fine dining restaurant Craft. After plating beautiful meals all night, by 11pm the rush was over. Tom and Sisha were hungry. They started using bits and pieces of their remaining mise en place, creating sandwich versions of what the patrons had been eating all night—the quality of a Craft meal placed between two pieces of bread.
Along with the excellence of the bread, another thing that makes their sandwiches great is the interesting combination of ingredients. A lot of thought has gone into the pairings. As you read the combinations in their cookbook 'wichcraft, or on the restaurant menu, you see how easily their ideas can be translated back into plated entrées. Try their slow roasted pork with red cabbage, jalapenos and mustard on ciabatta rolls or pan-fried eggplant with buffalo mozzarella, tomato, white anchovies and raisin-pine nut relish on grilled country bread.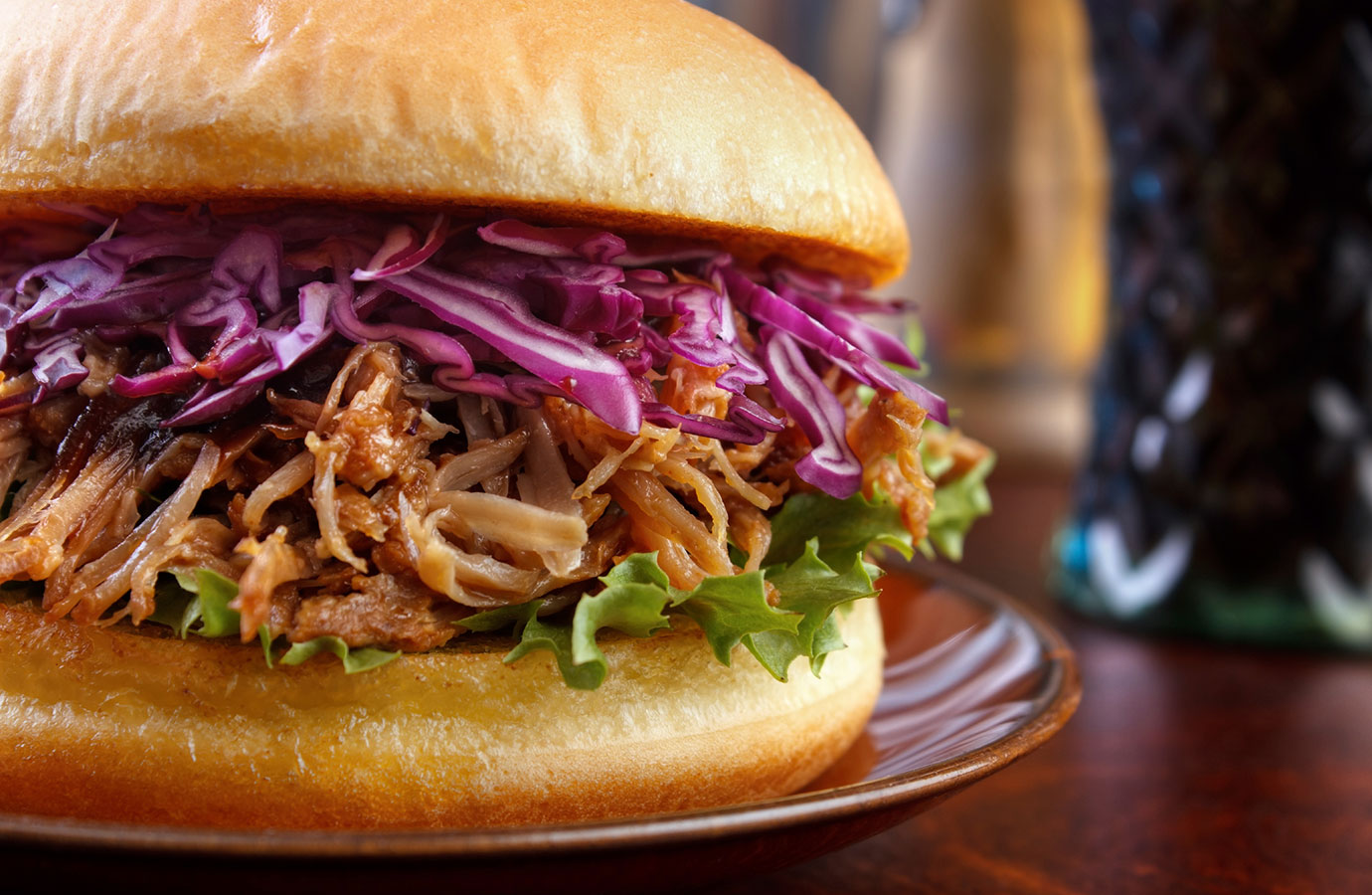 The popularity of sandwiches also pops up in fiction. There they seem to be the particular prerogative of police and private eyes, occupations where you often need to eat on the run but still want something good. Lawrence Sanders's character, Chief Edward X Delaney, from the Deadly Sin series, is addicted to sandwiches. He is often found peering into the refrigerator, looking for bits and pieces of meats, cheeses, leftover salads and spreads. He divides the architecture of his creations into two categories: wet sandwiches to be eaten while leaning over the sink, dry ones to be placed on a napkin and consumed along with a rye highball as the Chief ruminates over the files of a case. Delaney has another favorite category of sandwich, the "interracial", containing concoctions like a bagel filled with ham and spread with Chinese mustard.
My personal sandwich favorite, which would belong in Delaney's interracial category, is the Vietnamese banh mi. Vietnam was under French colonial rule from the 1860s until the 1940s. I've written before about the ability of Vietnamese chefs to integrate the French repertoire with their own distinctive cuisine. In yet another instance, a French classic, baguette with pâté, after some marvelous additions, became the Vietnamese banh mi. It is a favorite snack served all over Vietnam, especially in the south, and an expected option wherever in the world you find Vietnamese communities.
Anatomy of the Banh Mi: Essentials for the classic sandwich
Bread: The Vietnamese version of the classic French baguette has a crisp but thin crust and a tender, airy crumb. It's shorter than the classic French baguette and chubbier around the middle. Rustic breads with a thick crust and a chewy interior do not work. They make the thin layers of meats, pickles and dressings shift and collide like tectonic plates. Vietnamese markets generally sell baguettes but if necessary, a Mexican bollito is a good substitute for the sandwich bread.
If you want to make your own Vietnamese-style baguettes, follow Andrea Nguyen's recipe. For interesting variations on sandwich fillings, check out her book The Banh Mi Handbook and also Jacqueline Pham's book Banh Mi.
Pickles and other vegetables: The classic pickle for banh mi (and generally a great foil with rich fatty meats like pork belly or roasted duck) is made from a combination of daikon and carrot. The pickles can be ready in an hour and last for a month in the refrigerator. If you can't find daikon, red radishes make a good substitute. Cilantro sprigs and thinly sliced jalapeño chilies, cucumber and sweet onion are also used for flavor and to provide some crunch. It's the combination of the right bread and the crunch of pickled and other fresh vegetables that distinguishes the banh mi.
Mayonnaise and sauces: Kewpie Mayonnaise is the Asian favorite. In sandwiches it is often seasoned with sriracha, soy sauce, fish sauce or Maggi seasoning sauce.
Meats: The classic banh mi, showing off its French heritage, contains a combination of pâté, ham, headcheese and pork roll. Vegetarian and vegan sandwiches, usually featuring fried tofu with a combination of rice noodles, crunchy vegetables and avocado, are also popular. Jacqueline Pham gives great recipes for a lemongrass tofu filling and for a spicy eggplant and tofu filling.
Shopping for Banh Mi
I live near Argyle Street, the heart of Chicago's Vietnamese community. When I have no time to cook, I go there to pick up takeout. My neighborhood shop is Ba Le, family owned and operated since 1982, hours from 7am to 9pm, seven days a week. I love the atmosphere in this busy shop. Check out the shrine as you enter and enjoy the waft of fragrant incense. Be prepared to wait, there's always a line.
The shop sells lots of other snacks like papaya salads, fresh spring rolls and rice dishes but it is most famous for its sandwiches. They offer 16 combinations with 2 vegetarian and 4 vegan options. You can also buy baguettes there along with the different fillings found in their classic sandwich. Recently, I read the labels on the meats. I've never kidded myself about what parts of the animal are in headcheese, but something about reading "pig lips" and "snouts" as the two main ingredients took the bloom off the bud. I now make banh mi at home, using Ba Le's bread, my own fresh pickles and condiments, and traditional French and Italian charcuterie. I can't imagine giving up Ba Le's tasty sandwiches or the convenience of takeout, but now for me the best banh mi are homemade.
Recipes