Weihnachtsstollen or Christstollen
Yield: 8 loaves
Notes about timing
Making your Stollen a week or two after Thanksgiving will give it the perfect amount of time to age for Christmas.
Allow 2 days to make the Stollen, as the dough needs to cool rise overnight.
Be sure to soak your raisins in rum 1-3 days before you make your dough.
If you make your own candied citrus peel, don't try to do it day-of, as it needs a few hours to set after it is made.
Notes about ingredients
When available, I use all organic ingredients because, not only are they better for you and the planet, they actually DO taste better. Seriously. That being said, you can make really lovely and delicious Stollen with conventional ingredients as well. But whatever you do, use butter, not margarine!
---
Ingredients
3.25 cups whole milk, room temp or slightly warm
4 packages (1 oz or 3 Tbl) active dry yeast
2000 grams (16 cups) all-purpose flour
2 tsp salt
4 tsp orange rind, finely grated
¼ tsp cardamom, ground
2 tsp cinnamon, ground
668 grams (5 ¾ sticks) unsalted butter, room temp
280 grams (1.5 cups) sugar
8 egg yolks (small)
400 grams (2 2/3 cup) sultanas (golden raisins), soaked in rum for 1-3 days (weigh before soaking)
132 grams (1 cup) dried zante currants soaked in rum for 1-3 days (weigh before soaking)
750 grams (5 1/4 cup) almonds, blanched and sliced*
200 grams (2 2/3 cup) zitronat (candied lemon peel), diced**
140 grams (2 cups) orangeat (candied orange peel), diced**
3 sticks butter, for melting and brushing loaves before and after baking
1 pound powdered sugar, for HEAVILY dusting loaves just out of the oven.
Instructions
In a large mixing bowl, gently combine the milk, ¼ cup of the sugar, and the yeast. Let sit until foamy.

Once this yeast mixture is foamy, add remaining sugar, flour and then the rest of the ingredients, and combine. The order is not critical, but I mix in the sugar, flour, salt & spices & orange rind initially with a wooden spoon, then add the eggs and butter and mix those in, literally, by hand. Then I add the candied citrus peel and soaked sultanas and currants. Last, I add the almonds.

This is one of those times in baking where you get to really put your muscle into it, and mix by hand. Like, actually with your hands.

Turn the dough out onto counter and knead until everything is completely combined. You are not kneading to develop glutens-just to combine the ingredients. Form into a large ball.

Place dough back in the bowl and cover with plastic wrap.
Cool rise overnight. I do this in the refrigerator, but if your kitchen is quite cool, you can leave it out on the counter. Don't skip an overnight cool rise. This helps develop the flavor and texture of the Stollen. The dough won't grow that much, but the magic is happening!
In the morning, if you let your dough rise in the fridge, let it sit at room temp for a couple of hours. Turn out onto counter. (If you did your cool rise on your counter, you needn't let it sit at room temp before shaping.)
Divide into 8 equal pieces (I use a metal bench scraper to divide the dough), then shape each piece into a thick round disc.

Roll each disc until it is about 8 inches in diameter, approximately 1" thick.

This next step is critical for the authentic Stollen shape: Fold each disc over, not quite in half.

Place on baking sheets – 8 loaves fit perfectly on 2 half-sheet pans (13' x 18" pan).

Let rise for 2-2 ½ hours at room temperature.
To Bake
Preheat oven to 350 degrees F.***
Line 2 half-sheet pans with either parchment or silicone mats, or butter them well.
Brush loaves generously with melted butter and place in the oven.

Immediately reduce temperature to 310 degrees F. ***
Bake approximately 1 hour and 45 minutes until nicely browned. It is better that they bake a little dark than too light, so that you have that good flavor.
Remove and immediately brush top and sides with melted butter.
Using a strainer filled with powdered sugar, VERY generously cover each loaf with the sifted powdered sugar.

The bread will still be hot, but as soon as you can pick up each loaf without burning your hands, turn them over one at a time, brushing each bottom with butter and then dusting with powdered sugar. Also dust some powdered sugar on the pan and lay each loaf back on top of the sugar, top facing up.

Allow loaves to cool completely.
Place each loaf separately in 2 plastic, zip-closure freezer bags and set in a cool, dark place until you are ready to eat, 2-6 weeks later. The longer it ages, the better it tastes! REALLY!!!
Alternatively, package 7 of the loaves as directed. Slice yourself a piece of the remaining loaf and enjoy, with or without butter. I challenge you not to eat the whole loaf that day. To most Germans, this is blasphemy and is not allowed. However, to me it is considered "research", as this way, I am able to compare FRESHLY BAKED Stollen with APPROPRIATELY AGED Stollen. Having conducted this "research", I can say with confidence, that while fresh Stollen is really, REALLY yummy, Stollen allowed to "age" for at least 4 weeks is FAR superior. Wait for the rest of the loaves. You'll see what I mean.
*Almonds: If you are insane, like me, the guilt of taking shortcuts eats away at your soul. Therefore, I order organic, whole, blanched Sicilian almonds and slice them all by hand. If you don't relish doing things the long way – or simply don't have time – blanched, sliced almonds work just fine. I actually did this once. The deliciousness of the resulting Stollen soothed my guilt to a tolerable level.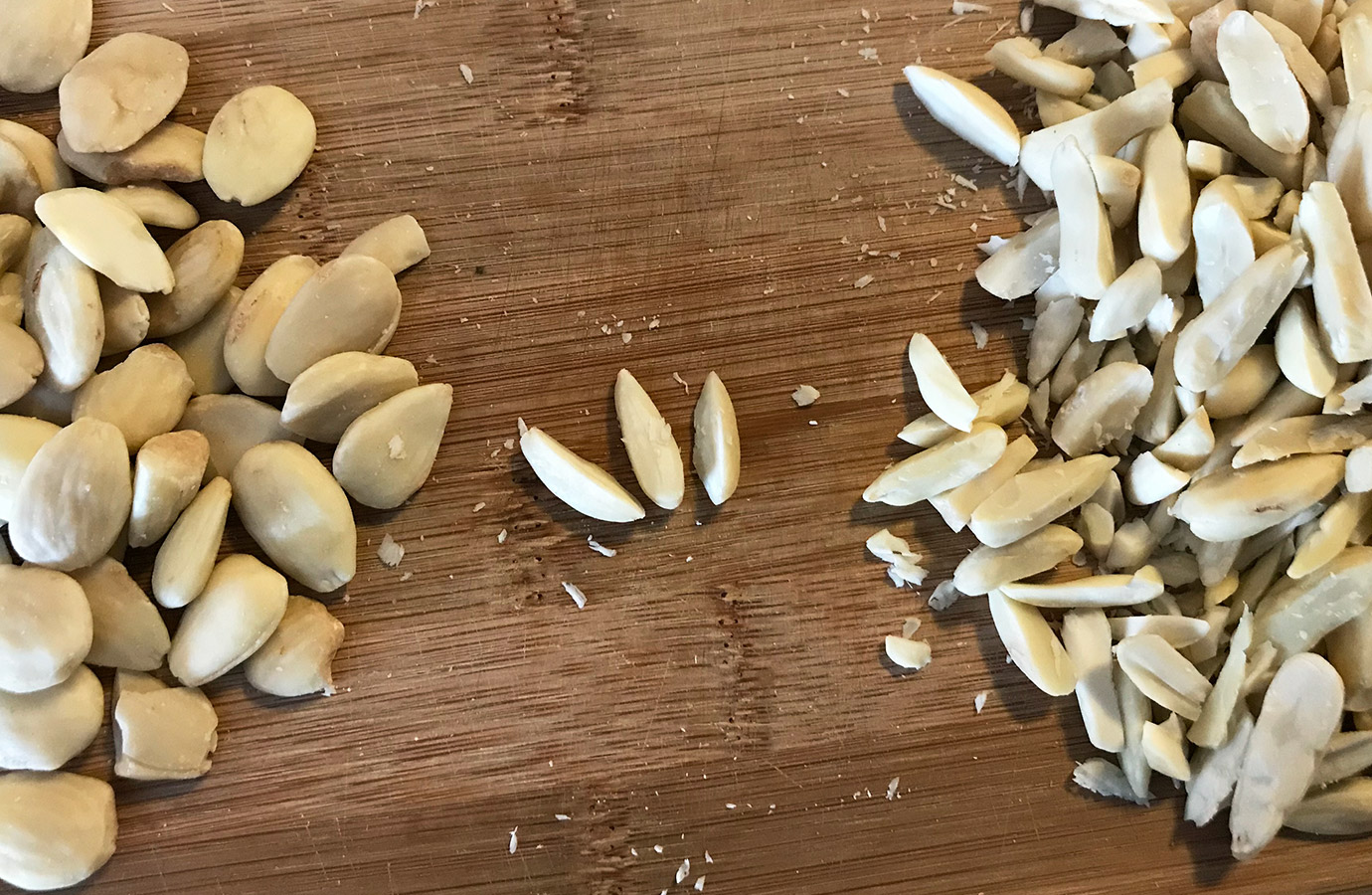 **Candied Citrus Peel: I make my own candied citrus peel, with lemons, oranges, and whatever other nice, thick-skinned citrus I find when it is time to make them. The addition of grapefruit and lime are really nice – just be sure to use some lemon, some orange, and whichever other candied peel you like to total 340 grams. Don't forget to save the syrup in which you candied the peel, it makes a great base for holiday cocktails! Martha Stewart has a good and easy recipe.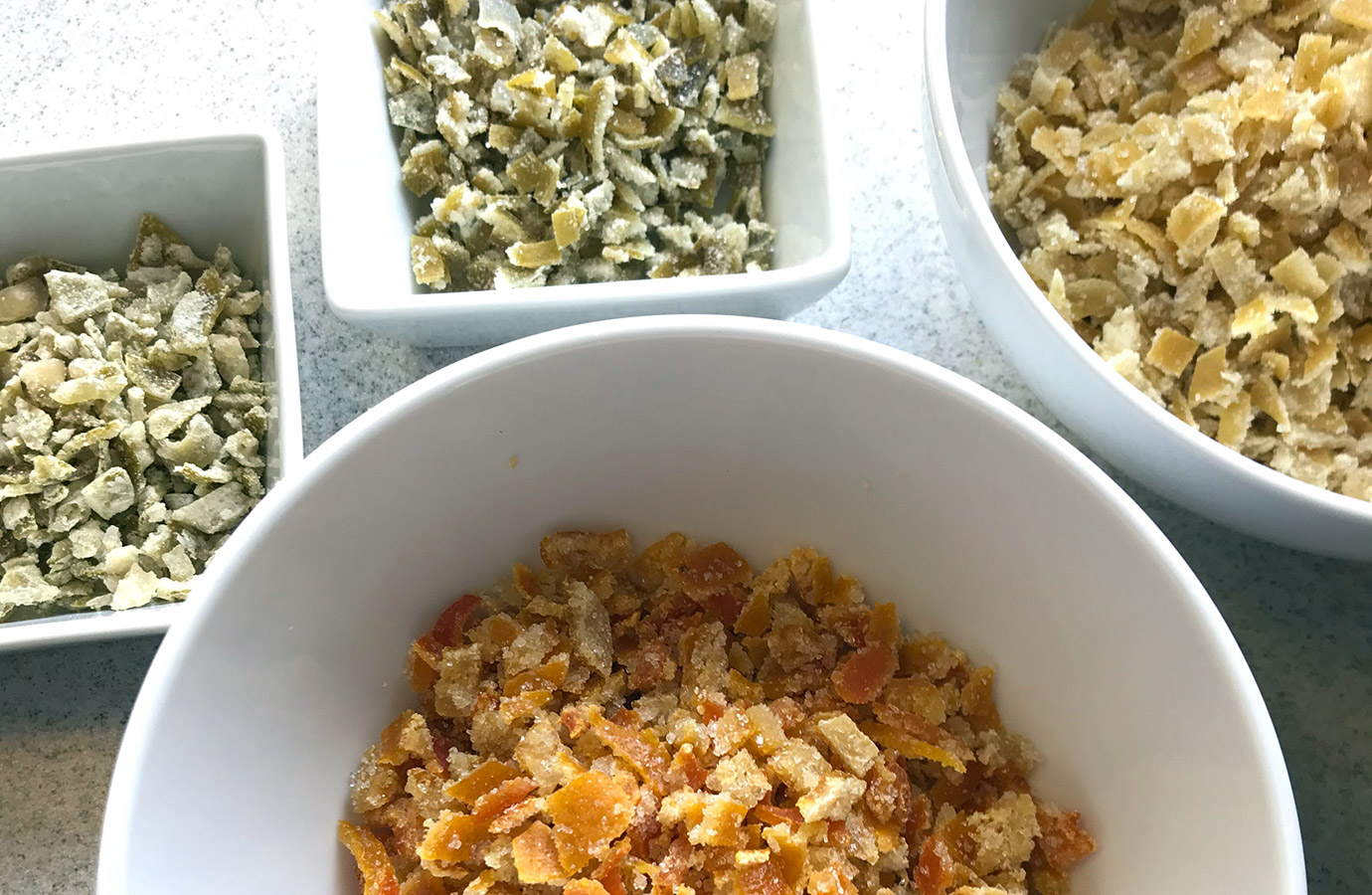 You can certainly purchase candied citrus peel, though finding good quality, without artificial colors and chemicals, is pretty tricky. Rainer used to buy very special fruits for his Stollen from a little shop in Munich during his frequent trips to Germany. Since he travels less now, he likes to use what they sell online at
King Arthur
. It's organic and excellent quality.
***A note about altitude: The above oven temps are what my mom used in Chicago. At high altitudes, baking longer and lower, like the original recipe, will result in a dry Stollen. I live in New Mexico at 5900 feet and I suggest preheating the oven to 400F, then dropping temp to 350F and baking for about 1 hour and 20 minutes. This is what I do and works like a charm.