Years ago I read a New Yorker article about how physical work leaves an imprint on our bodies. It was about musicians and their relationship to their instruments. The article focused on the beauty of this relationship and also the physical stress, depending on which instrument an artist played.
In my case, I've worked in kitchens for the last thirty-five years and have always been aware of the impact of that labor on the body. Kitchen workers' hands particularly fascinate me. Over the years, I've looked not only at chefs' hands but also at all the hands that supported their work: dishwashers and waiters; growers, fisherman and ranchers; artisanal producers of cheese, olive oil and honey. While each craft leaves a mark on many places, including the soul, look at the hands. They give many clues to the story of how a life was led.
What follows is a tribute to useful labor, to the working hands of unknown craftsmen. It is created through the collaboration of two artists, the photographer Eric Futran and the writer David Medaris. I asked Eric to look through his images and send me those of working hands. I sent them on to David and asked him to compose a haiku for each image. Please enjoy the results of this special collaboration.
Haiku for working hands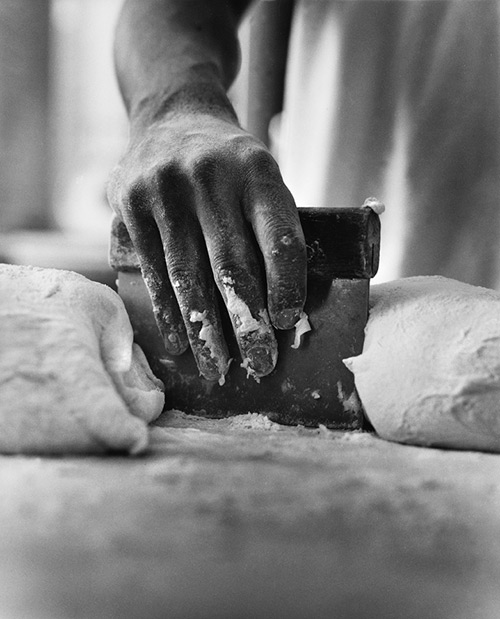 Bread maker's hands mix,
Knead, now divide dough for loaves
Homeric labor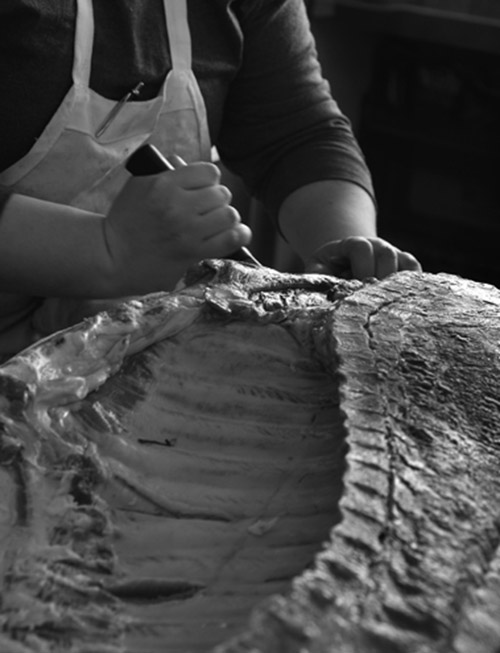 Butcher's carving knife,
Relentless and unyielding,
Breaks down pork carcass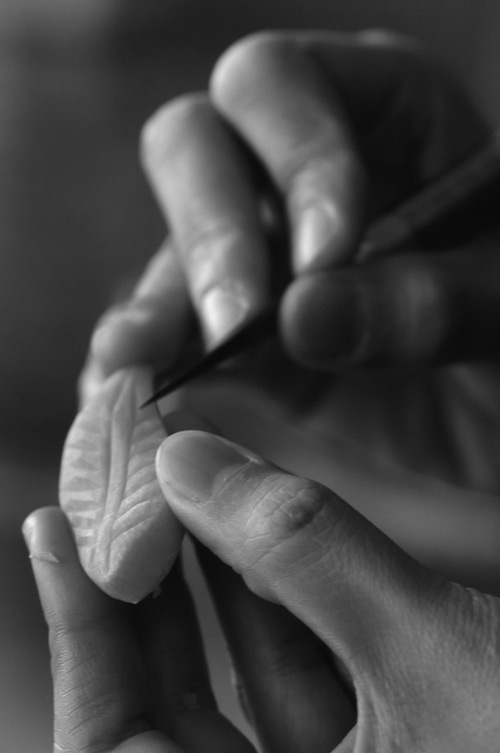 Fragile leaf garnish
Emerges from carver's hands
For diner's delight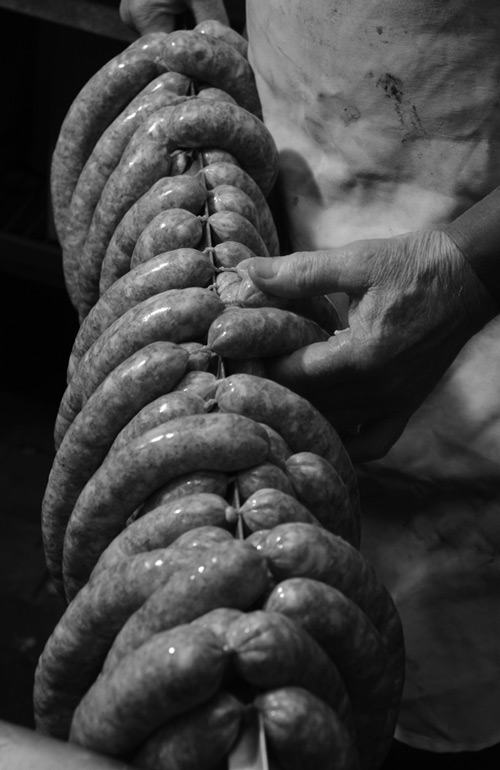 Steeped in tradition,
Butcher's hands arrange the links,
That wurst may dry best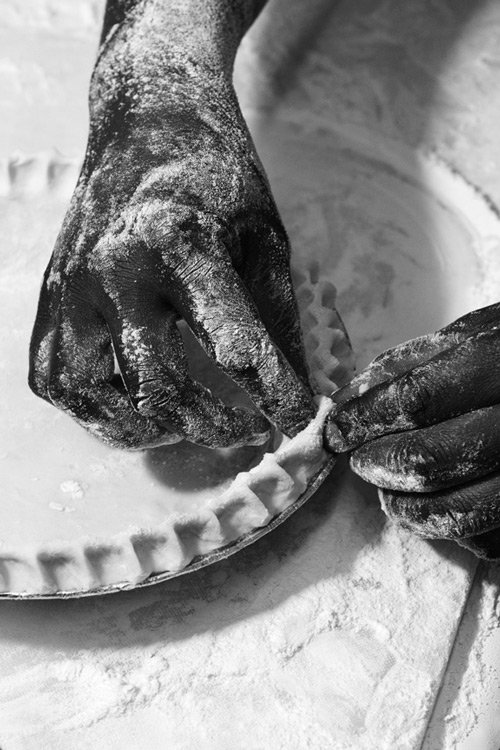 Dusted with flour,
Baker's hands flute a pie crust
High notes for dessert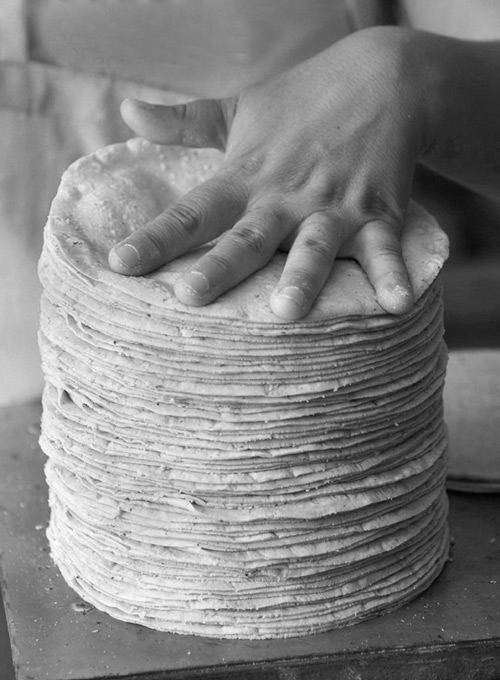 Like a paperweight
Hand bestows stability
To fresh tortillas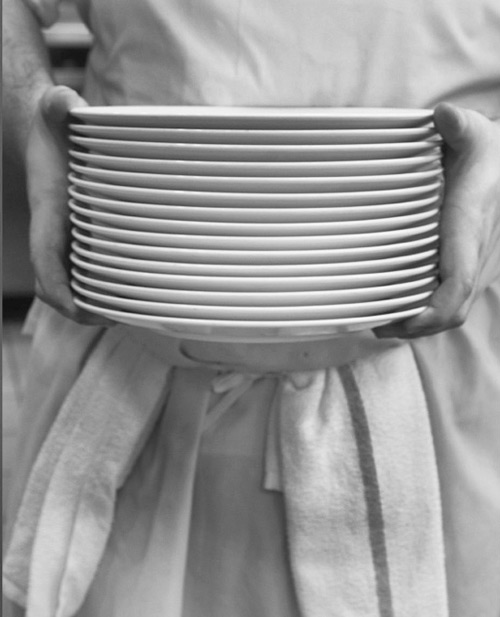 "Banquet for fifteen?"
Chef greets you, prepared to plate
Big hands, big party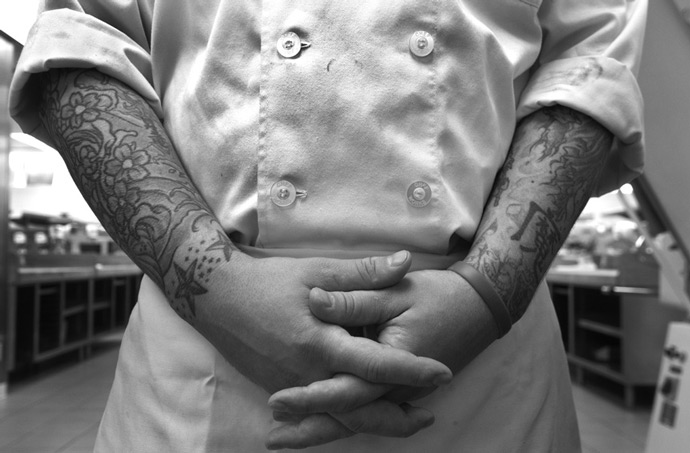 Customers sated
By his creative impulse,
Chef's hands find repose
---
David Medaris works and lives with his wife in Madison, Wisconsin. In 1976, he began his career in journalism, covering art, entertainment and music for a local alternative press. While he always aspired to write fiction, it was poetry to which David turned after leaving the newspaper. He is known for his clean and elegant style. He has a deep respect for manual labor, a great fondness for haiku and has rarely encountered a well-prepared dish he didn't savor.
Eric Futran photographs kitchens and barnyards, butcher shops and packing houses, three star dining establishments, mom and pop restaurants and fast food joints all over the world. Many of his photographs appear in the Summer 2015 issue of the Cook's Gazette. Click here to explore more of his work.