by Fadia Jawdat
Summer always reminds me of hikes and picnics with my family in the mountains of Lebanon during the late 1950's and early 1960's. These expeditions did not happen regularly, but when they did, they took on the proportions of a Roman military campaign.
Working abroad, my father could only return briefly to spend time with his wife and children. These special occasions would always involve picnics with our extended family and friends. Loaded down with tubs of marinating meats and vegetables and chests of ice and cool drinks, a caravan of cars would drive up to the mountains in search of a perfect spot. We would park and unload, each of us carrying our share, and descend into a ravine like a herd of goats negotiating rocky terrain. Setting up camp by a stream under a pine tree or two, my father and the other men would build a charcoal pit made from a circle of rocks that we children collected. After the grilling of kababs and chicken, the devouring of salads and watermelon, the women cleaned and packed up the campsite while the kids would follow my dad, climbing the rocks in search of wild green thyme…za'atar! We'd fill up bags of it and stash them in the back window of the car.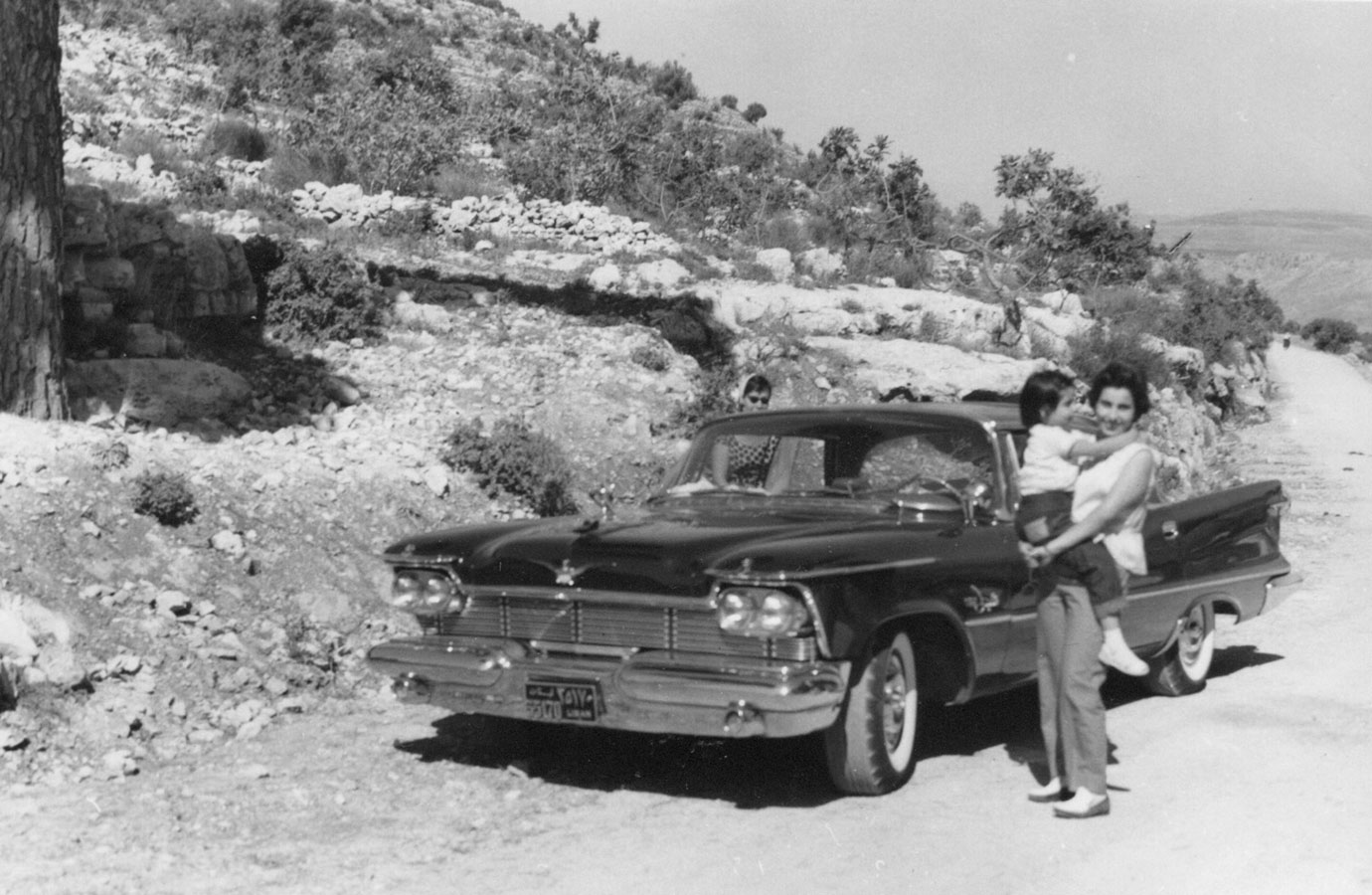 The ride back to Beirut was bittersweet: our lungs filled with the aroma from the bundles of green herb, pine trees and fresh air, our hearts swollen with excitement and satisfaction, drained from the climb, drenched in the Mediterranean setting sun. Our conquest of the wild, led by our fearless commander, sadly, had come to an end.
Before my dad took off again, my mother would spend the next few days, rinsing and plucking bunches of za'atar, spreading the green leaves to dry on white kitchen towels. She would then mix and knead dough, beginning a lengthy process of making exquisite savory pastries stuffed with chopped onions, green za'atar and ground sumac. For a couple of days more, the fragrance of herbs and freshly baked pastry dough clung to our lingering memories of the picnic together in the hills.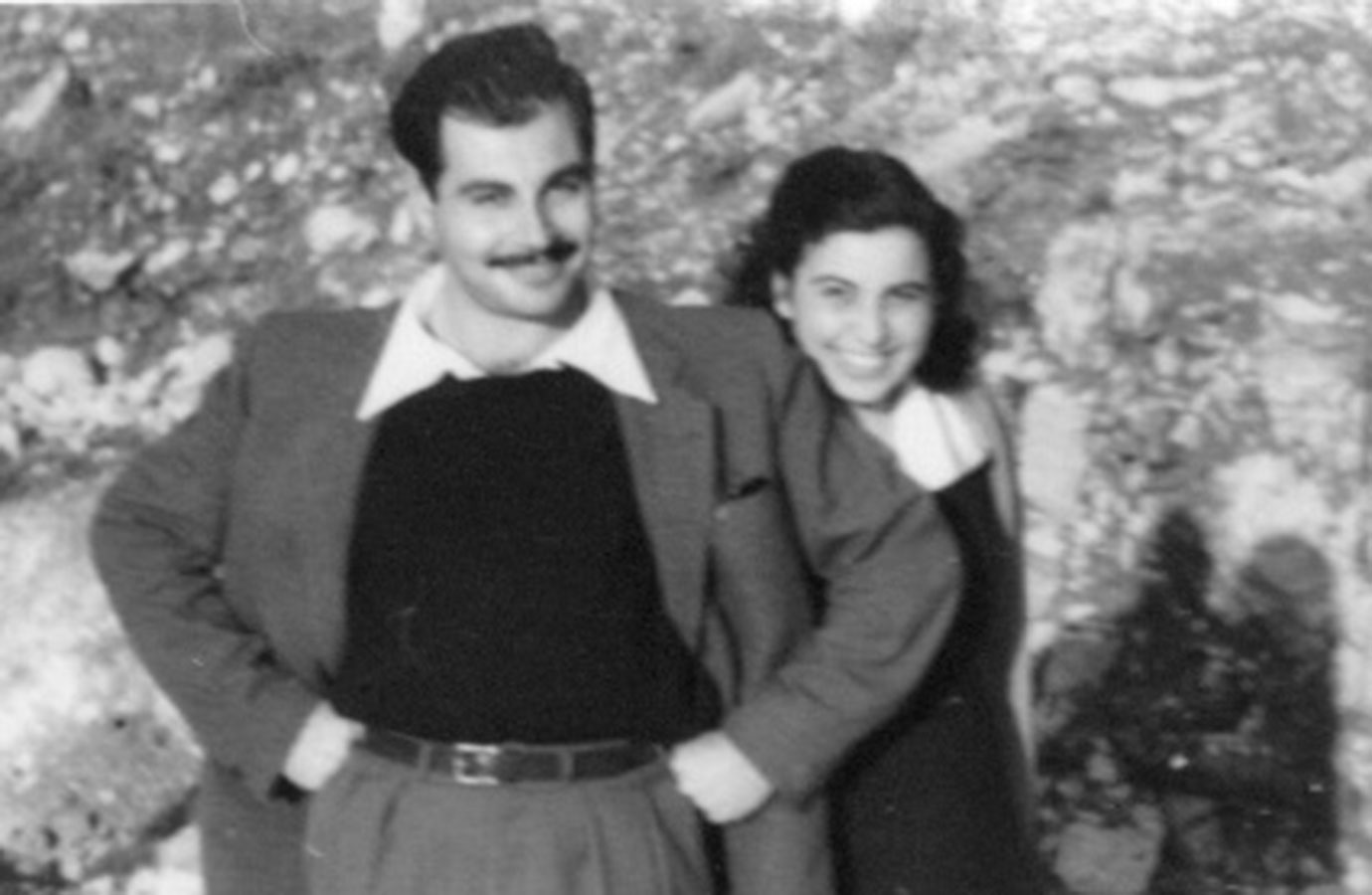 Although there is no direct translation in English, the word za'atar can refer to any of several species of wild thyme, whether it grows in Lebanon, Syria or Palestine. But za'atar also refers to the mixture of dried crushed thyme mixed with sumac, sesame seeds, salt and other spices like marjoram or oregano. That blend is a staple ingredient in Levantine households, though the taste varies greatly depending on whether the herb is wild or cultivated. Country, terroir and producer also affect the flavor. My favorites are Jordanian blends, greener in color and to-die-for delicious.
Typically, a bowl of za'atar has its place on every breakfast or dinner table alongside the olive oil carafe, the plate of white cheese, labneh, tomatoes and cucumbers. Mixed with oil to make a paste, it is drizzled on boiled eggs or cheese or simply spread on pita bread. It is also used in meat marinades and in homemade savory pastries. In Lebanon, the best treat was Sunday morning's freshly baked, warm man'oushe, a thin pizza-style flatbread smothered in olive oil and za'atar. Straight from the corner bakery, either piled flat or rolled and individually wrapped in parchment paper, the mana'eesh (plural of Man'oushe) were brought home, hot and steamy. For me, the ultimate pairing with man'oushe is the small green fig. These sweet succulent jewels ripen in September, practically melting in your mouth as they pair with the tart spiciness of the za'atar and the deep smoky richness of the olive oil.
When I moved to New York City in the seventies, the culture shock coupled with the civil war in Lebanon left me yearning for a world that would eventually disappear from my life. During my first decade on American soil, I inevitably gravitated towards a handful of Middle-Eastern grocery stores, scouring the shelves for recognizable Lebanese brands of staple ingredients. We did not yet have the Internet and Google with resources and recipes at the click of a mouse. Hummus and falafel had not yet invaded the coolers and shelves of every supermarket. Choices of Middle-Eastern restaurants and foodstuffs were limited. But I managed to get by with what ingredients I found locally and quickly became a good cook, duplicating my mother's and grandmother's recipes and dishes.
Za'atar was the ingredient that I missed terribly and sought persistently. More than a staple ingredient in Levantine households, it is a flavor that embodies the essence of "home". And so, despite the difficulty of communicating with my family back in Lebanon during a violent and brutal civil war, I shamelessly asked friends and travelers to bring me back plastic bags of that queen of all herbs and spices, stowed in their luggage.
Today, articles about za'atar and mana'eesh fill the Internet. Supermarkets carry tiny jars of it in the spice aisle, and za'atar flavored pita crisps share the shelves with corn and potato chips. You can buy it on line and Middle-Eastern grocers are now importing excellent blends. I sprinkle za'atar on my avocado toast in the morning. I have a jar of it at my desk at work to brighten my day when I feel like escaping the drudgery. My freezer is packed with five different blends that my family still sends me either from Lebanon or Jordan by way of Boston and Atlanta. Za'atar is my genie in a jar, the link to my heritage and to memoires of a sunny and safe childhood in the hills.
Recipes
Roasted Beets and Carrots with Za'atar and Tahini Sauce
---
Born in Beirut, the daughter of Palestinian parents, Fadia Jawdat left Lebanon in her twenties seeking a Master's degree in Design. She and her husband lived and worked in New York City for ten years before moving to Washington DC to raise their two daughters.
Although art is her primary passion, the world of food seeped into her professional career and personal life. A self-taught cook, she experiments in her kitchen, taking short-cuts and adding a twist or two to the dishes that were once her own culinary heritage. Her creative drive lives on through cooking, food writing, food photography and
styling, menu development and recipe testing.