The yaki yaki san grill, made from the porous clay in Iga, Japan is perfect for grilling seafood. Of course, the recipes will still work on any grill with a small grate.
Ingredients
Fresh shrimp, shelled and deveined
Fresh jumbo sea scallops
In Japan scallops are often sold live, in their shell, making it possible to also enjoy the delicious roe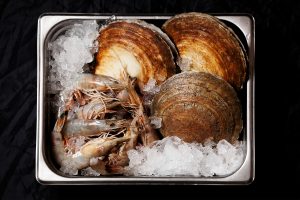 Instructions
Marinate the scallops and shrimp for an hour with any of the four marinades listed below, reserving some of the marinade.
Remove seafood from the marinade. Pat the scallops and shrimp dry and brush lightly with oil.
Preheat the grill. Grill scallops or shrimp, turning once, until golden brown and just cooked through, about 4 minutes.
Transfer to warm serving plates and drizzle with the reserved marinade.
Choice of marinade